Christmas Crackers at Headlam Hall again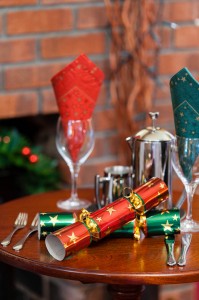 It's that time of year again and we've been busy shooting Christmas crackers at Headlam Hall – once again on a very hot day!
Last years photos were such a hit that they decided to have us take more in the same style in order to update more of their brochure from the old "fake location" studio photos they've been using for a while now.
Additionally, they've asked us to update many of their other stock images too (to be shot on white at our studio in Richmond). These will include Christmas crackers and a range of New Year Party Packs. Next we'll be shooting their range of food packaging.
It's all been a nice alternate use for our studio that was originally built for family portraiture.